2015: Wash. Rinse. Repeat.
I normally don't enjoy revisiting my New Year blogs of the ambitious list of "what I'm going to accomplish in these next twelve months". This year, I especially don't like it. Why? Well, let's review. My list for 2014 was:

1) Finish Fate's Apology and find beta readers.

I wish I could say I did both of these, but no matter how I wrangled it, there just wasn't enough hours in the day. On many weekdays, I literally have no more time beyond my thirty-minute lunch break to spend writing, and about the time I'm comfortably in the headspace where my story lives, *blink* the break's over. I did, however, complete nearly the last third of this draft, mainly due to taking a week's writing vacation in July. Geez, if only I could do that more often, right? Well, currently, the goal stands at completing it by the time the choir returns from winter break at the end of March. That gives me six hours on Saturday mornings I normally spend singing and I plan to guard them with, as K.M. Weiland once said "a machete and a flame-thrower". As for beta readers, I have five people so far who'll make for a nice, varied audience. One of the three women is a writer, and having two men will help me know if the story will appeal to a male audience.

2) Write new piano compositions.

I had said last year that completing Fate's Apology would trump all other goals. This is one it trumped. Additionally, I did not take the planned sabbatical from the Shaare Zion Choir that would've give me six extra months of Saturday mornings. Paying musical jobs are hard to come by, and losing it would've been a step backward in that area of my life. So the piano didn't get the time it needed.

I did, however, come up with about four ideas which I recorded for further work when I'm ready to take that afternoon and turn my back to the WIP. Right now, I'm too close to the end to stop, so the only composing I'll be doing in the near future is on my bass for any new songs I need to learn for the band, which is fortunately still getting regular paying gigs. Hooray!

3) Review books I've read.

I did. Yay! Now to make it a continuing habit.

3) Get a web site up on my rascalbear.com domain.

Not yet. I have the ideas. What I don't have is the artwork that my mind sees heading and decorating the page (although I do have a rough draft a friend made for me). This is important to me, and it's not something I can do myself because although I'm an artist, I'm not a cartoonist. How am I going to fix that problem? I'm going to either work with what I've got or pay someone to do it for me. And I can do that because when I decided not to quit the choir, I also made a second decision: all the money I earn as a musician is going to go towards my writing. Well, a blog is writing, so problem solved. Win-win.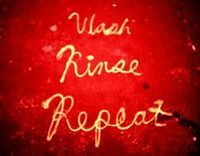 Now, what's on the menu for 2015? I'm going to keep it real simple this year:

1) Finish Fate's Apology.
2) Write new piano compositions.
3) Make Rascalbear's Red-Point Siamese Round-up a reality.
Wash. Rinse. Repeat.
See you in 2016! (Okay, sooner, but you know what I mean...)