Fallen Heroes: My Uncle Gary
It's Memorial Day, a day that for most of my life simply meant "hooray school/work vacation!" because my family was fortunate that not very many of us not only didn't fight in wars, but didn't die in them either. Of course, we should be thankful for all who did, but it's not as immediate if it didn't hit home.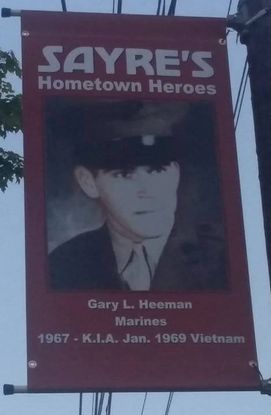 My uncle Gary L. Heeman was an exception. He served, and fell, in service to his country. He's being honored this week along with other fallen heroes with a banner in my hometown of Sayre, Pennsylvania. I thought it was time to honor this young, brave man whose grave I often visit when I return to my roots.
I was only four years old when he died, the victim of a sniper in the Vietnam War, for which he enlisted in the Marines to fight. But I still remember him: his handsome smile, goofy sense of humor, and the horsey-rides he gave me on his knees at Grandma's house. I also remember his funeral, where I learned for the first time what the death of a human being was. Wondering why he was sleeping with so many people around. Why he wouldn't sit up and smile at me. Why he looked so... still. I remember on the ride home, my little kid self trying to make sense of what I'd seen and heard, and asking out of morbid curiosity "But where was he shot? Oh, In the neck? like this?" My dad patiently explained as I banged my fist against the right side of my neck, wondering what that would feel like. I still wonder.
Uncle Gary died a proud Marine, doing what he believed was right for his country and for innocents abroad. But I'm sure that had he lived to hear it, he would've agreed with the words of the song we put as a soundtrack to the 8mm film snippets of his marriage to my aunt Shirley, fun and frolic in the cabin in Canada, and ultimately his funeral, the classic song 'Imagine' by John Lennon: "Imagine all the people, living life in peace." RIP uncle Gary. I still miss you.